The motivation behind OPF is to lower the cost of financing the pension scheme for its clients and owner. OPF delivers pension and insurance solutions to the municipality of Oslo, Oslo University Hospital, Sporveien AS, Ruter and several other companies controlled by the municipality of Oslo.
Investment strategy
We are aiming at several partly conflicting goals in our investment strategy:
Our pension reserves carries an investment guarantee of approximately 2,7 % a year
We must at all times comply with government regulations, and we are prohibited from additional capital injections
Our clients demand predictability and stability in return
All our investment activity must comply with our sustainability goals and handle climate risk
We believe that long term, active management is key to deliver superior results over time. Our revised investment strategy backs this philosophy, but it also takes us a step further, bringing in an ALM (Asset Liability Matching) element.
In the new strategy, we split all assets in the client portfolio in two separate parts. A hedging portfolio and a return portfolio. The advantage is that we now can aim at two conflicting goals at the same time. We have constructed the hedging portfolio to deliver on the guaranteed return, while the return portfolio is set up to minimize pension cost through high investment returns.
The following illustrates our new strategy: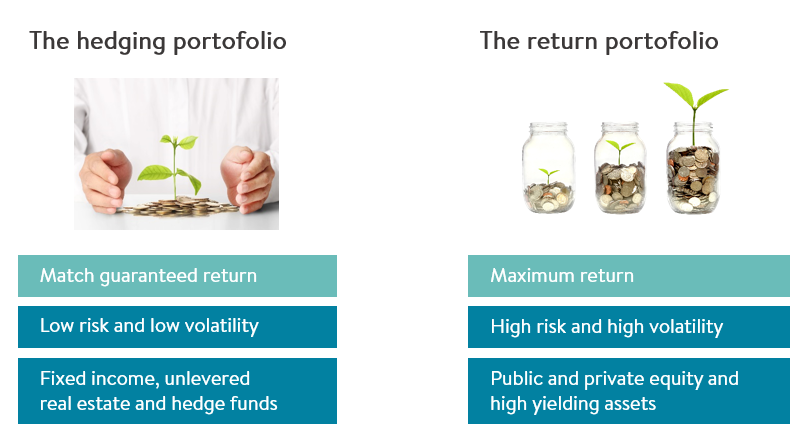 The hedging portfolio
The portfolio is aiming at returns that match or exceeds the guaranteed rate of return.
The portfolio includes investments that generate stable returns like fixed income, unlevered real estate, loans and receivables and hedge funds.
The portfolio has by the end of 2018 the following allocation: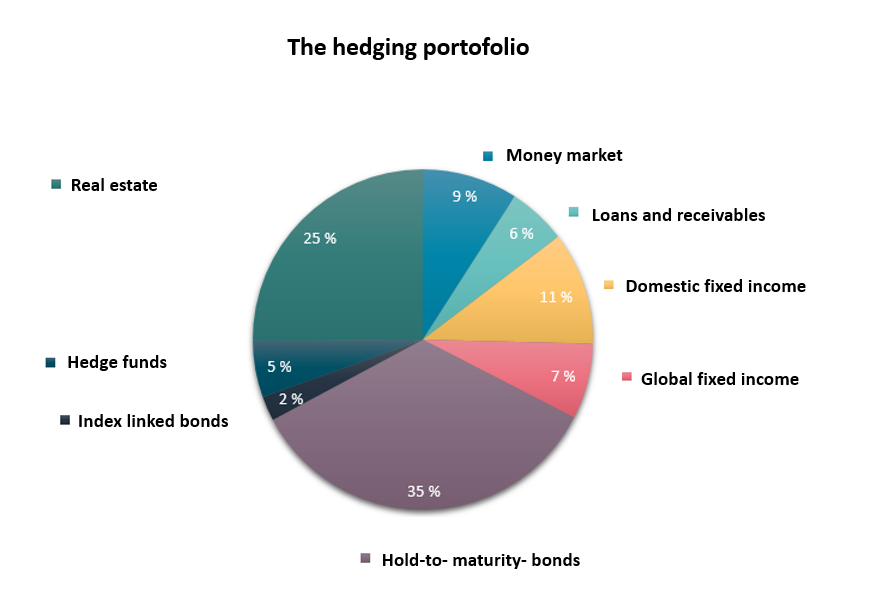 We adjust our expected return by a market stress to make room for market volatility in the hedging portfolio.
The portfolio, adjusted for a margin of safety, shall at the start of the calendar year, comprise adequate capital to meet its return obligations. After each calendar year, the surplus/deficit can be added to the return portfolio. This process repeats itself through time.
Insurance premiums adds to the hedging portfolio, while pension payment reduces it. Premium funds that belong to the client is the ultimate destination for excess return.
The following illustrates the ALM-process: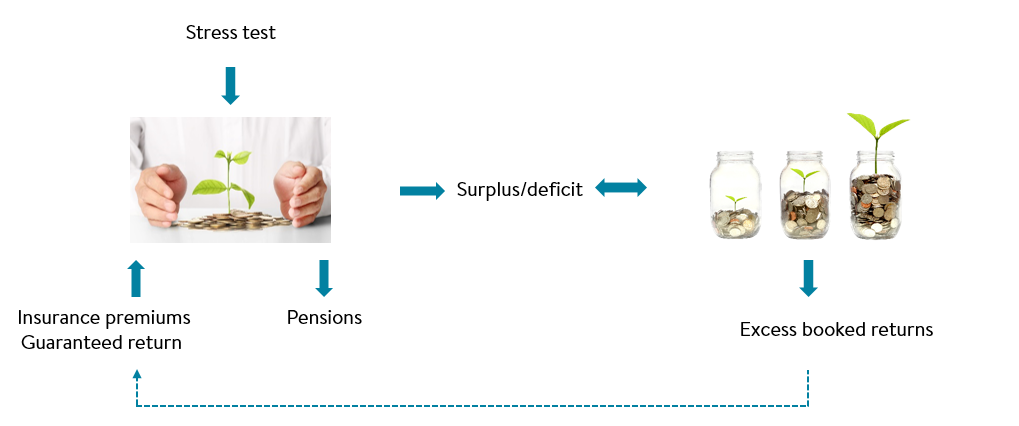 The return portfolio
The aim of the return portfolio is to reduce the cost of pensions by high investment returns. The portfolio do not carry any liabilities, and we are free to do long term and unrestricted investments. The portfolio include higher return assets like public and private equity, infrastructure, high yielding bonds and receivables and convertible bonds.
The return portfolio is perfectly equipped to withstand market turmoil, but will have higher volatility.
The portfolio has by the end of 2018 the following allocation: